50 years ago Bassmasters was formed by Ray Scott. 40 Years ago Operation Bass/Red Man Tournament Trail known today as FLW (Fishing League Worldwide) was formed. 7 years ago MLF (Major League Fishing) was formed by anglers Gary Klein & Boyd Duckett with the intentions of "growing the sport". With focus on competitive angling, the public wasn't aware what transpires on the water during competition…henceforth camera crews & judges were put in each boat, with "real time" tracking and instant release.
MLF originally starting with 14 anglers. Upon airing on the Outdoor Channel in 2012, it was an instant success. The public liked the format with the following enacted:
Surprise venues
No practice days
Real-time leader board in each boat
No limits on the number of fish weighed
Implement time-based deadlines & weight-based cut lines
Fast fwd to 2018…Boyd Duckett & 79 other anglers have formed a new, invite only tournament circuit of the cream of the crop from the cast for cash community. Many anglers were disgruntled with B.A.S.S. for some or many reasons. But the who's who in the business signed a 3 yr contract with MLF starting in 2019. And yes I said the who's who…KVD just to name 1… B.A.S.S. scrambled to keep regular Elite anglers from dropping out with several changes such as lower entry fees & more money for pay outs… FLW is eliminating c0-anglers from the pro's boats and more…
Will MLF, B.A.S.S. and FLW survive? It was thought that maybe all 3 tours could combine forces into 1…It was a thought…B.A.S.S. has over 500,000 subscribers. Do they fish bass tournaments? NO! Not all! Is there a niche for them? YES! Same with Fishing League Worldwide & Major League Fishing. My prediction is they'll all make it. At least we may know something in 3 years. That's when the MLF anglers contract runs out…on second thought they signed a non-disclosure agreement.
Money was no issue in forming the new MLF tour with 2 main owners worth 13.5 billion. Johnny Morris of BPS/Cabelas and Stan Kroenke of KSE Sports. Recording & live segments will consist of 350 hours of live coverage & 850 hours of recorded coverage. Networks that will air will be The Discovery Channel, CBSN, CBS Sports, WFN, & the Outdoor Channel…so far… The Outdoor Channel lists MLF as their number 1 show. In addition, the MLF 80 angler tournament organization now known as the Pro Bass Tour Anglers' Association (PBTAA) will be ran by Gary Klein & Boyd Duckett. More to come I'm sure…
FLW says they won't change much but will watch what happens. B.A.S.S. VP of communications, Dave Precht, said they may reduce the Bassmaster Elite Series field from 110 down to 80…or maybe even lower. One thing I've noticed over the years is since the inception of B.A.S.S. they've gone from showing how to catch bass to just tournament bass fishing. I know of only a handful of people that drag around 75-100k bass boats with vehicles to match. My guess would be <2% of anglers today are tournament fisherman. Many today dream of having success and shiny rigs while chasing little green fish…but the finances it takes pursuing such a life is a huge issue. I even contemplated this back in the 80's but in "my" case common sense prevailed.
With MLF providing more tv exposure, it's bound to reach the multitudes. Hopefully the younger generation will take interest…on a positive note, bass aficionado Ken Duke says fishing license sales are allegedly up nationwide.
A plug for NatGeoWild new show with Bassmaster Elite angler Mike Iconelli on Oct 12 at 10 P.M. "Fish My City". Ike…you either like him or not. He does have one of the largest fan bases on the circuit.
Are you an angler that likes to skip baits under docks, trees, bushes….It comes with great success for many if you have the right gear. I'm lucky to skip a rock over a frozen pond. I remember eons ago watching Bassmaster TV when angler Woo Daves was using a Zebco 808 to cast under "stuff" to prevent getting a backlash. The reel was the size of a softball. Things have changed somewhat since then. Microwave ovens, cell phones, your kids in their 40's…Check this Shimano Curado DC 150HG reel. It has a microcomputer that controls the spool rotation every 1/1000 of a second. I don't know if it's a guaranteed thing but maybe Santa will bring you/ME one. It's without a doubt one of the most technologically built reels on the market. It comes in both right & left retrieve with gear ratios of 6.2:1 / 7.4:1 / 8.5.1 and available at Brooker Bait & Tackle in Leesburg.
Here's an update on the new ramp going in at Venetian Gardens on Lake Harris. The City of Leesburg has created a perfect venue for competitive and recreational boaters/anglers alike with soon to be ample parking, restrooms, and a 2 lane ramp with floating docks. Project completion for the ramp is expected within 2-3 weeks or safer to say late Nov… although the first tourna- scheduled is the B.A.S.S. Nation on Nov 10 & 11….Dec 2 thru 8 with Team Championship, and in 2019 Jan 24-26 with a B.A.S.S. open. This is just the start of many tournaments to come. The money generated in the area by visiting anglers & guests will offset much of the cost of any project. Build it and….
September 25th on the Tsala Apopka Chain near Inverness, (Rt 41 & 44) another tournament barn burner weigh-in for 21 anglers took place…I donated $$$…The results were 64 fish caught, 1st place was 5/6.36 lbs. Big Bass was 2.92 lbs.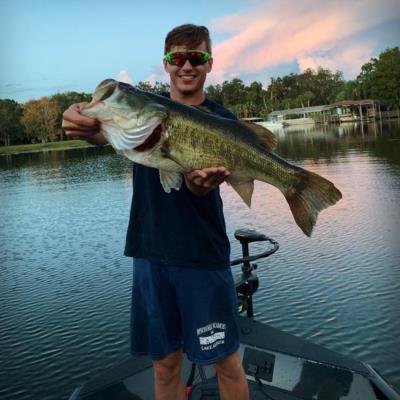 Trophy Catch Award Winner Shane Lancaster Sep 30….weight 8.8 lbs Lake Harris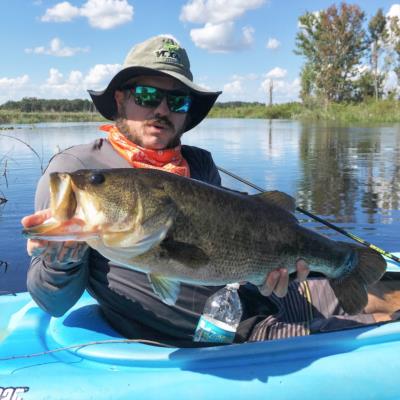 Trophy Catch Award Winner Brett Hobson Sep 25….weight 9.15 lbs Palatlakaha River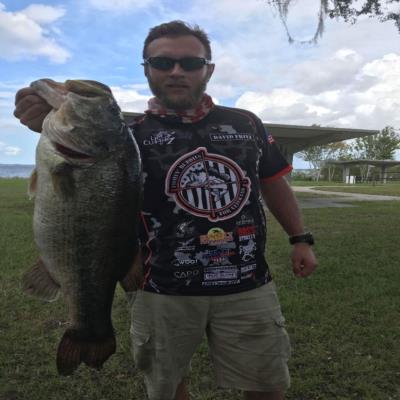 Trophy Catch Award Winner David Fritz Sep 22….weight 8.13 lbs Lake Harris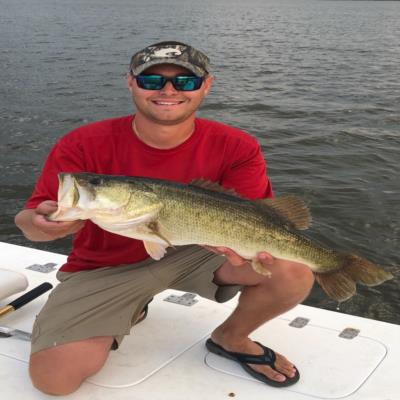 Our own FFC speaker/guide Captain Zachary Slankard Sep 18….weight 8.0 lbs Lake Griffin….Nice job Captain Zach…. Captain Zach bookings can be made by contacting him at centralfloridabasscharters.com or (352) 255-3474.
If you like what you see, scroll down the right side and sign up for future reports and remember, O.T.B. stands for Outside The Bubble of The Villages.
See ya at the meeting Tuesday Oct 9 at Lake Miona Rec Center. Doors at 6:30 PM.
Hurricane Michael GO AWAY 
Stay safe everyone
Steve Henderson