Now before you go off the deep end, hold your horses. "YGBSM" translates to You Gotta Bass Shockingly Massive….at least that's the way it needs to read??? While checking results of a recent bass club tournament at Hernando, I chuckled after seeing the weights. 1st Place was 5 fish that weighed 8.43 lbs with Big Bass of 2.90 lbs.
Feast your eyes on this monster….Jim Jones, FFC Board Member, was fishing a pond in The Villages Feb 5th. Unfortunately Jones didn't catch this fish but noticed it was floating & deceased. Curiosity still played a roll and Jones decided to hang it from the scales. How about 14. 2 lbs WOW!!!  Can you imagine hooking into this monster? Sadly no one will but this goes to show what's available in not only Village ponds but any Florida waters. Register for Trophy Catch. The link is at the top of this page….but once you do, make sure you read the rules. It costs nothing & the next cast could be a giant.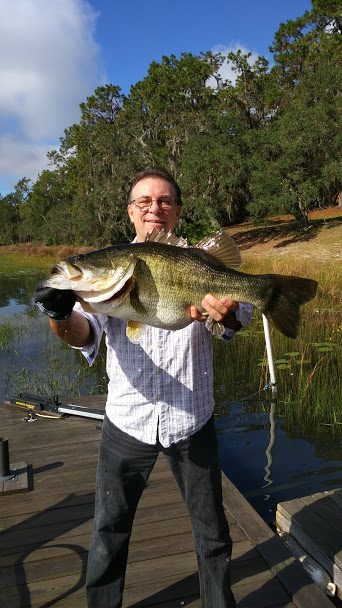 Here's Mark Lemieux that has the leading Largemouth Bass so far in the annual Trophy Catch contest that weighs 14 pounds 5 ounces caught in a Marion County lake. The bass measured 27.625 " per FWC & was released. We could have them this size and larger within the bubble (Villages). So the next time you venture out to the local water hole, you may want to think twice about using that Snoopy Rod with 6 lb test line. It's a good chance that you'll get your string stretched or even worse, broke.
Just a reminder that Bernie Schultz will be at the Freshwater Fishing Club, FFC, monthly meeting Feb 13th. Doors open at 6:30 P.M. & meeting starts at 7:00 P.M. You MUST be a Villager with Village ID to attend.  Schultz has been on the tournament trail for many years & is an author plus collector of antique tackle. Follow him on Bassmaster.com Feb 8th-11th while fishing the Bassmaster Elite Circuit. I'm sure he'll have a story about his latest tournament & hopefully a $100,000 win like Leesburg's own FLW Pro Tim Frederick had 2 weeks ago at the Big "O". Also sign up for the next fishing excursion with program chairman Steve Felix. Steve says the next trip is at Panasoffkee. Trip details can be seen on the Meeting/Events tab at top of page under March 1, 2018.
If you like what you see, scroll down right side of home page and submit your email to follow us. It goes no further than this club. Find out what's going on in & outside the area. The whole truth & nothing but the truth so help my digital scales & pictures.
Steve Henderson