You "kids" won't recall the catch phrase "Where's the beef – but change beef to fish and many have been asking just that. It's been a few weeks that I've had anything worth while in mentioning – fishing wise that is….at least those registering bass with Trophy Catch are having some success….right Bruce Gover? But Bruce isn't the only person having success. Check below that freak of nature, as Dave Mercer would say. NO not the angler ….Yeah you're reading it right…. 14.1 lbs…. Nice catch Richie Whitmore….and of all places Rodman Reservoir. I mention that because the "Feds" wanna breach the dam and allow the river to go back to its natural state. Feds and natural state are as compatible as hot grease & water. Another subject I'll touch on a later date.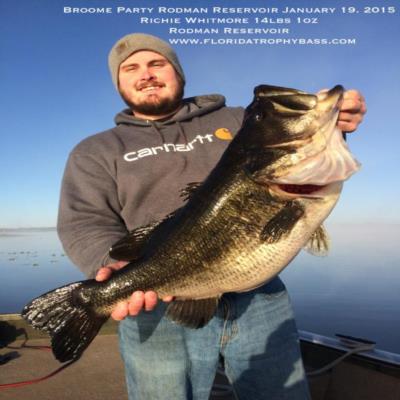 While Gover & Whitmore are swinging Big Mama's in the boat, yours truly is trying to swing anything over 14″ with little success. I fished with neighbor Stan Lippian a few weeks ago at the Conway Chain of Lakes. We caught fish but 5 fish were lucky to weigh 6 lbs.
It's just not Conway….on Jan 27 at Rousseau 12 anglers fished a club tournament with the winner weighing 5 fish in at 7.01 lbs….big bass was 1.86….NOTHING like pictured above.
Last week I grabbed my flippin/pitchin stick and glued it to my arm thinking I'm gonna force myself to do this & catch a Trophy Catch fish. I went to Griffin and headed up the Okalawaha River. After catching a few that barely broke the 2 lb scale I set the hook on a HUGE bass. I saw Terry Scroggins boat swing a 10 pounder on tv with heavy tackle….and I thought my tackle was heavy.
As I got the bass to the surface and started sliding her over the tops of pads, I wound down & raised the rod toward the sky….the bass is level with the gunnel when all of a sudden she came off, bounces off the gunnel and splash.  You HAD TO HEAR ME….about 2 PM on Jan 27th….1 syllable, noun, verb, 4 letters.  Line was fine but as I looked closer my 3/0 Gamakatsu Superline hook broke just below the barb. YGBSM. Never have I broke a hook there…. NEVER!
I retied with a like item – reluctantly….then my attention was turned to this massive thing sunbathing along the shoreline. I hadn't seen 1 of these toothy lizards this large in a while. I bid him/her farewell and made a few more casts and called it a day.
Maybe my next outing I'll find the beef fish.
Steve Henderson